Osgood-Schlätter pathology: Inflammation of the patellar tendon at the anterior tibial tuberosity
Complete pack for Osgood-Schlätter treatment
This kit allows you to accompany your child during the treatment of Osgood-Schlätter's disease as well as during his recovery.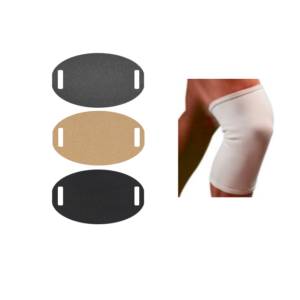 L'orthèse End-Osgood est composée d'un matériau thermoformable micro-perforé et respirant, recouvert d'un Lycra pour plus de confort ainsi que d'une sangle élastique confortable et ajustable qui assure son excellent maintien.
Le moulage de l'orthèse permet d'épouser parfaitement la forme du genou, quelle que soit l'anatomie du patient.
L'orthèse ainsi mise en place, soulage le tendon rotulien et diminue instantanément la douleur.
Le support de genou sera utilisé lors de la reprise de l'activité physique. Il viendra se positionner au dessus de l'orthèse. Il a pour objectif de protéger l'orthèse et d'assurer un maintien supplémentaire lors de l'activité (entrainement, match…)
Toutes les orthèses sont bi-couleur. La couleur extérieure est la couleur sélectionnée lors de la commande.
Matériau lavable (résistant à l'eau, T°C<50°C)
La sangle est à taille unique. Elle peut être recoupée à l'aide d'un ciseau si besoin.
Le colis est composé d'une :
Orthèse End-Osgood et de sa sangle
Un support de genou
Dans un objectif d'eco-responsabilité, le support de genou sera livré sans emballage. L'ensemble des informations contenu sur l'emballage est mis a disposition sur le site.
La procédure de mise en place de l'orthèse est disponible en téléchargement sur le site ici.
Une vidéo est également disponible sur le site ou sur Youtube (rechercher ORTHOREPASS)