An innovation that will change the daily life of your sporty child
Treat Sever's pathology in just 3 months
What is the End-Sever Brace
The End-Sever brace is an effective and sustainable treatment developed by Dr. Vincent Glorieux in order to definitely cure Sever's pathology only three months.
The End-Sever brace is made from a very high quality thermoformable material .
It is covered with two sides of a lycra which ensures excellent comfort.
Its small thickness makes it possible to treat only the concerned heel. No need to compensate the healthy heel with an extra thickness.
The End-Sever brace acts directly on the root cause of Sever's pathology, namely patellar tendon traction . Thanks to a molding that perfectly follows the anatomy of the patient's heel as well as its rigidity, traction of the Achilles tendon is controlled.
The damping qualities of the material also make it possible to avoid using an additional sole .
Wearing the brace is compatible with orthopedic insoles.
This results in an increase in the body's efficiency in its repair of inflammation.
End-Sever Brace Instructions for Use
Daily use of the brace during the whole treatment period (about 3 months).
1st month: Stop all sports activities
The End-Osgood brace is worn from sunrise to sunset.
2nd month: Resumption of the sports activity, the opinion of your doctor is recommended
The End-Sever braceis removed when the pain has completely disappeared.
The different methods of stretching done by your child in parallel with wearing the End-Sever brace
In order to accompany healing, your child must perform daily stretching of the calf muscles (triceps sural).
For this it will be necessary for your child to perform a session of 3 postures of 30sec each per leg.
Put your palms flat on the wall.
Position yourself in the front slot (see diagram below)
Rear leg stretched, press your heel against the ground. You must feel a painless tension.
In order to accentuate the stretching, you can slightly flex your leg before holding the position for about 30 sec, then release.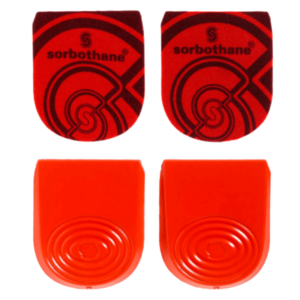 Wearing Sorbothane® heels is recommended for recovery from Sever and/or Osgood Schlätter disease.
New generation Sorbothane® shock absorber
• 100% heel of Sorbothane® material
• Ultra fine: the heel is lodgeable in all shoes
• self-adhesive: does not slip in the shoe
• beveled (7.7mm to 2mm): more comfortable, avoids the effect of "stairs"
• Multipurpose
• Multi-sports
• Sensitive feet: Sorbothane® is a unique material as comfortable as flesh
• Provides very natural comfort
• Abrasion cover, more resistant, evacuates perspiration
Sorbothane® heel wear limits repetitive impact injuries, prevents muscle and joint pain, back pain, knees, fatigue fractures, tendinitis, periostitis, cervicalgia… Sorbothane® promotes relapse prevention and provides unparalleled comfort
• Use Sorbothane® heels to complement original cleanliness sole
• Hand wash with soapy water, allow to dry naturally