An innovation that is going to change the daily life of your child
Treat Osgood-Schlatter's disease in just 3 months
10 years of research and therapeutic trials of different approaches were needed by Doctor Vincent Glorieux to refine an effective treatment to definitively* cure this disease.
The brace that was developed allows, once molding to the shape of the anterior tibial tuberosity with the help of the thermoformable material, immediate relief for the child at first, and then a definitive long term cure.
Instructions for put on the End-Osgood brace
Wearing the brace allows the child to return to their sporting activities within the first month**.
1st month: Total stop physical activity (in club, at school and at home). The End-Osgood brace is worn from sunrise to sunset.
From the 2nd month, when the pain has disappeared or has greatly reduced, sports activity is gradually resumed the opinion of your doctor is recommended.
The End-Osgood brace is removed when the pain has completely disappeared.
Putting the brace in place does not require any particular medical competence.
The video below explains step-by-step the procedure to put the End-Osgood brace in place.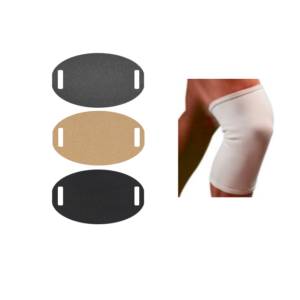 L'orthèse End-Osgood est composée d'un matériau thermoformable micro-perforé et respirant, recouvert d'un Lycra pour plus de confort ainsi que d'une sangle élastique confortable et ajustable qui assure son excellent maintien.
Le moulage de l'orthèse permet d'épouser parfaitement la forme du genou, quelle que soit l'anatomie du patient.
L'orthèse ainsi mise en place, soulage le tendon rotulien et diminue instantanément la douleur.
Le support de genou sera utilisé lors de la reprise de l'activité physique. Il viendra se positionner au dessus de l'orthèse. Il a pour objectif de protéger l'orthèse et d'assurer un maintien supplémentaire lors de l'activité (entrainement, match…)
Toutes les orthèses sont bi-couleur. La couleur extérieure est la couleur sélectionnée lors de la commande.
Matériau lavable (résistant à l'eau, T°C<50°C)
La sangle est à taille unique. Elle peut être recoupée à l'aide d'un ciseau si besoin.
Le colis est composé d'une :
Orthèse End-Osgood et de sa sangle
Un support de genou
Dans un objectif d'eco-responsabilité, le support de genou sera livré sans emballage. L'ensemble des informations contenu sur l'emballage est mis a disposition sur le site.
La procédure de mise en place de l'orthèse est disponible en téléchargement sur le site ici.
Une vidéo est également disponible sur le site ou sur Youtube (rechercher ORTHOREPASS)