[vc_row full_width="stretch_row_content"][vc_column width="2/3″][vc_tta_tabs active_section="1″ css=".vc_custom_1559643976435{margin-bottom: 0px !important;}"][vc_tta_section title="End-Osgood brace" tab_id="end-Osgood"][vc_column_text]
An innovation that is going to change the daily life of your child
Treat Osgood-Schlatter's disease in just 3 months
10 years of research and therapeutic trials of different approaches were needed by Doctor Vincent Glorieux to refine an effective treatment to definitively* cure this disease.
The brace that was developed allows, once molding to the shape of the anterior tibial tuberosity with the help of the thermoformable material, immediate relief for the child at first, and then a definitive long term cure.
Instructions for put on the End-Osgood brace
Wearing the brace allows the child to return to their sporting activities within the first month**.
1st month: Total stop physical activity (in club, at school and at home). The End-Osgood brace is worn from sunrise to sunset.
From the 2nd month, when the pain has disappeared or has greatly reduced, sports activity is gradually resumed the opinion of your doctor is recommended.
The End-Osgood brace is removed when the pain has completely disappeared.
See the medical study in pdf format[/vc_column_text][/vc_tta_section][vc_tta_section title="Setting up the brace" tab_id="mise-en-place-orthese-end-osgood"][vc_column_text]Putting the brace in place does not require any particular medical competence.
The video below explains step-by-step the procedure to put the End-Osgood brace in place.[/vc_column_text][vc_video link="https://www.youtube.com/watch?v=aAkWR-5e97M&feature=youtu.be" title="By using an iron"][vc_video link="https://www.youtube.com/watch?v=HjkN9F-qzj4&feature=youtu.be" title="By using hot water"][/vc_tta_section][/vc_tta_tabs][/vc_column][vc_column width="1/3″][vc_btn title="Shop" color="orange" size="lg" align="center" link="url:%2Fboutique|title:Boutique|target:%20_blank|"][vc_zigzag el_width="60″]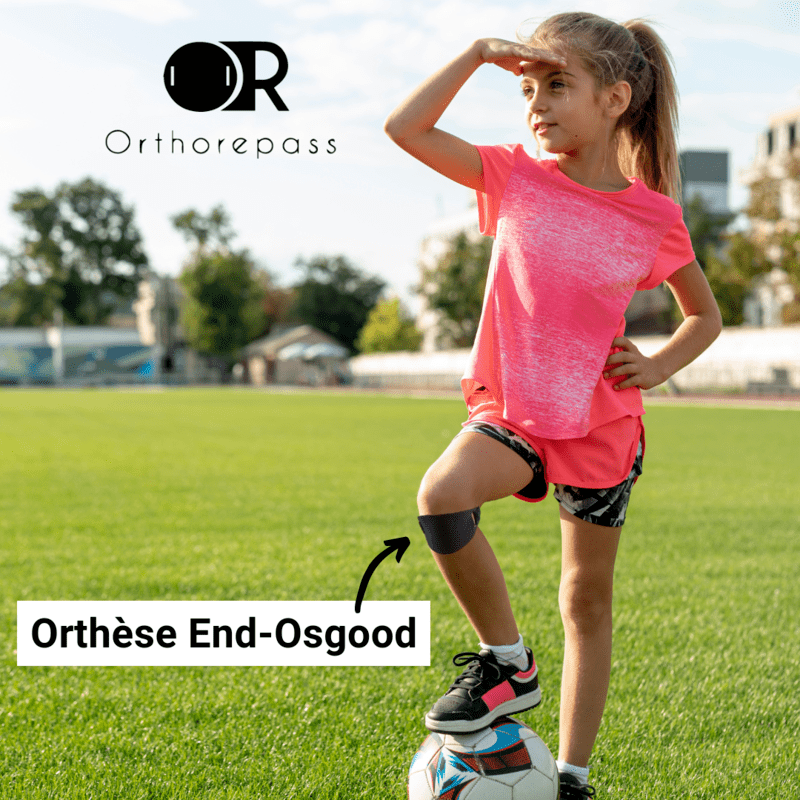 Ce pack permet d'accompagner votre enfant pendant le traitement de la maladie d'Osgood-Schlätter.
Il contient :
1 ou 2 orthèse(s) End-Osgood
1 paire de semelles amortissante adapté à l'activité sportive de votre enfant
1 ou 2 support(s) de genou Vulkan
Accès à un espace dédié aux patients 
Un suivi sur 3 mois avec 4 rendez-vous (téléphonique, vidéo ou physique)
Une assistance 7/7 via WhatsApp 
*Photo non-contractuelle
[vc_facebook][vc_separator color="violet"][vc_column_text]Download the following leaflet
in pdf format </ strong> which explains in details
all stages of the placement of the End-Osgood brace
however, do not hesitate to contact your doctor </ strong> if you want assistance.[/vc_column_text][/vc_column][/vc_row][vc_row][vc_column][vc_column_text]
[/vc_column_text][/vc_column][/vc_row]